Adamant Valves company absorbed comprehensive domestic and foreign technology, new technology, new structure, and follow the needs of customers to develop successfully new product—ball valve. The utility model has many advantages such as zero leakage, low opening and closing torque, long service life, maintenance, etc. The utility model has the advantages such as safe and reliable operation in the industrial and mining conditions such as flammable, volatile and anti sulfide stress fission.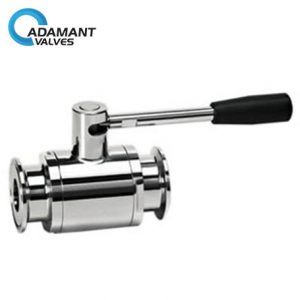 Sanitary ball valves are widely used in industrial and pipeline system, has a replaceable seat maintenance function, small fluid resistance, has the advantages such as simple structure, small volume, light weight, reliable sealing, convenient operation and maintenance, switch quickly, flexible closed, can operate manual, worm gear drive, pneumatic, electric, gas / liquid linkage, electric / liquid linkage, as well as various types of special control. Floating ball valve is widely used in many domestic key projects, the ball valve sealing is no need to change the valve seat, as long as the change can save time and cost.
1, the fluid resistance is small, and its resistance coefficient with the same length of the pipe.
2, simple structure, small size, light weight
3, reliable sealing surface with plastic, sealing good, in the vacuum system has also been widely used.
4, convenient operation, can be opened and closed rapidly, as long as 90 degree rotation, facilitate remote control.
5, easy maintenance, pneumatic ball valve structure is simple, seals are generally active, disassembly and replacement are more convenient.
6, in the fully open or fully closed, the ball and valve seat sealing surface and the dielectric isolation, will not cause erosion of the valve sealing surface.
7, the ball valve only need to rotate 90 degrees of operation and a small rotation torque can be closed tight. Full equality of the valve body cavity provides a small resistance, through the flow channel.