Butterfly valve disc was installed in the pipe diameter direction. In the health-class valve cylindrical channel, the disc-shaped butterfly plate around the axis of rotation, the rotation angle of 0 ° to 90 ° range, rotated to 90 °, the valve is fully open state. We should be installed according to the manufacturer's installation instructions, the larger the weight of the butterfly valve, you need to lay a solid foundation. With a bypass valve of the sanitary valve, we should open the bypass valve before opening.
In this case, if a butterfly valve is required for flow control, it is important to properly select the size and type of the sanitary valve.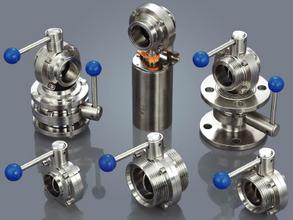 Butterfly valve is a large diameter valve. Butterfly valve is used not only in the gas, chemical engineering and other general industry, but also used in thermal power plant cooling water system.
Sanitary butterfly valves should be in accordance with the provisions of the specified location of the installation, but be careful in repairing and operating process to avoid unnecessary trouble.
We can not do to adjust the flow to prevent the flow in the medium when the sealing surface is too high to cause damage, it is best to do only full-open or fully closed use.
Sanitary butterfly valves should be connected to the elbow, to avoid direct impact on the health of the valve medium. Also to ensure that health-class valves do not frost, resulting in loss of work and can not operate.
After installation, remember to carry out regular maintenance, clean the cavity of the dirt, check the sealing surface, stem nut wear. And finally have a set of scientific and correct operating standards, maintenance needs to be sealed performance test, and then save the results record.